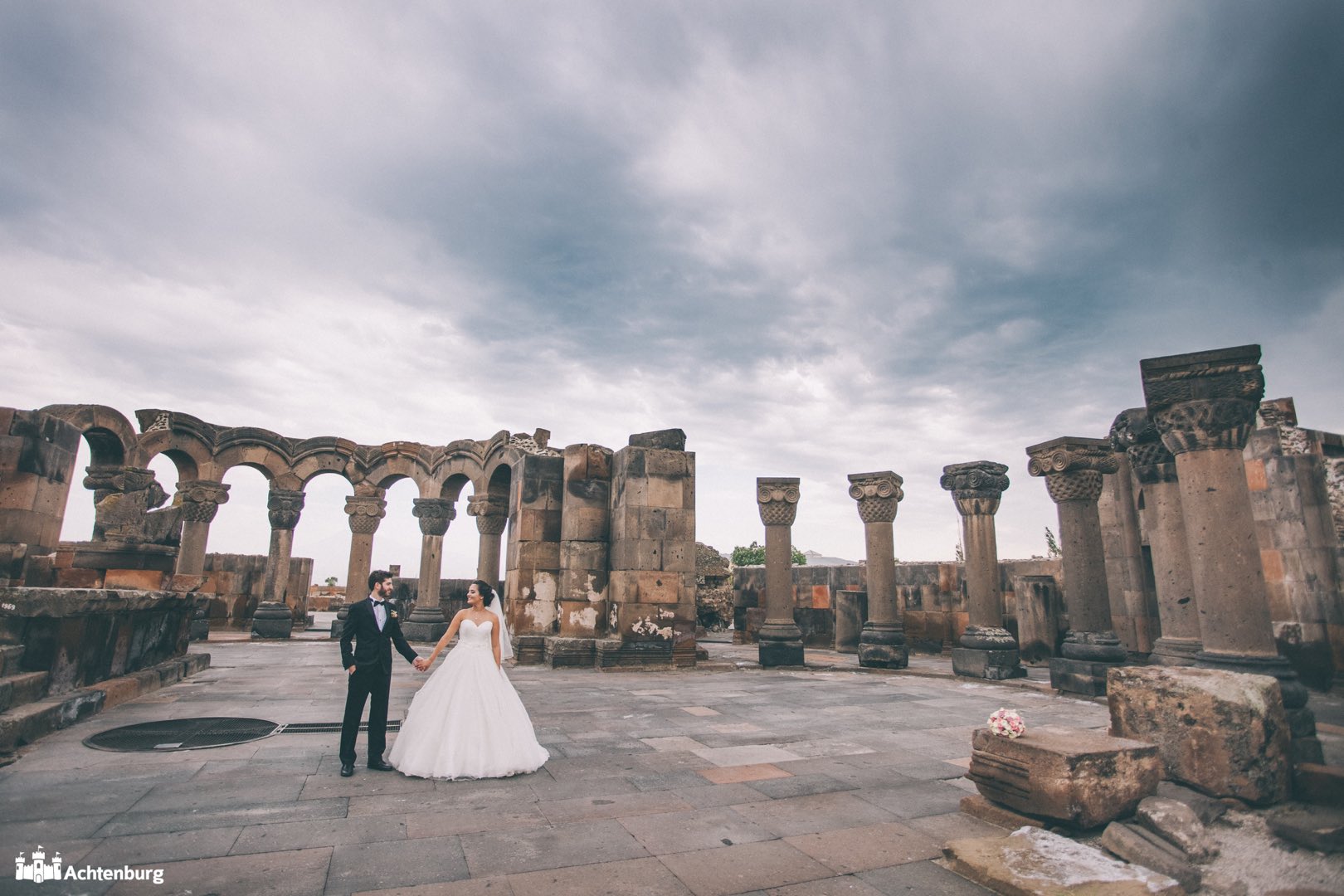 If you're reading this, you're probably a couple who are planning their 'happily ever after' … (maybe!), well hopefully! Have you thought about honoring your heritage and saying "I Do," to your future spouse in Armenia? These 10 reasons will encourage you it's the best place to start the rest of your life.
The Motherland
Armenia – your motherland, is a place of beauty, love & culture. The beauty of the beloved Ararat mountain will give you a warm welcome upon your arrival.
Getting married in Armenia is an achievable dream for many couples. You'll be able to incorporate traditions and culture into your day and break the mold of current-day wedding ceremonies and parties. Your wedding in Armenia will for sure be an exceptional and once in a lifetime adventure.
A Perfect Gathering for Family and Friends
Getting married in Armenia is an unforgettable experience for anyone involved. It's a perfect opportunity for you and your loved ones to be together to attend your special day. On other days, you can enjoy road trips to Lake Sevan, Haghpat & Sanahin Monasteries, Tatev Monastery, Khor Virap and more.
Guests will cherish walking in the heart of the city of Yerevan, enjoy the lively night scene it has to offer, the countless delicious restaurants always ready with entertainment and fully embrace its culture & history. Guests will also have the chance to visit the renovated Armenian Genocide Museum which is very close to the city center. It's a trip that's sure to be unforgettable.
Breathtaking, Historical Churches
Armenia is home to some of the most ancient and amazing churches in the world. As the first Nation to adopt Christianity as its first religion, your religious ceremony is sure to be incredible. Picking one church will be hard because of all the beautiful ancient churches, but choosing one and saying "I Do," will be unparalleled. You'll be surrounded by churches with enchanting greenery that will photograph incredibly well. The interior architecture of the churches is so amazing that you won't even have to worry about the decorations.
Affordable Wedding
The beauty of an Armenian wedding doesn't have to break the bank. It's one of the most affordable places in the world. With its divine beauty, you won't need to worry about all the unnecessary and extra expenses that can start breaking the budget. You don't need fancy cars, meaningless decorations or a ridiculously big video/photo crew. Most importantly, there is a wide range of wedding venues which are very affordable! With less worrying about the cost and minor details, you ensure that your special day is about the love between you and your spouse.
A Stress-Free and Easy to Plan Experience
Don't worry about having to spend an eternity planning for the big day. You can organize the essential points of your wedding day to-do list in just a week!
Ideally, you should only have to visit Armenia once prior to the big day. Head to the Motherland about 5-6 months prior to reserve your wedding reception venue, church and entertainment, which are priorities. You can also check out the flower arranger, make-up & hair artist and other service providers but don't feel pressure to decide at that moment. In this day and age, technology and communication is your biggest asset.
Cozy Wedding
Many of your guests will all be traveling from abroad to your wedding. This will ensure that your wedding will be special. Your closest friends and family members will most likely attend. This gives your wedding an intimate feel that's hard to match. After all, who wants to see his parent's ex-neighbor whom you never met, be at your wedding? Sharing your love in front of your truest friends and family is heart-warming.
Support the Local Economy & Tourism
Sure, by getting married in Armenia you're saving money, but you're also helping support the local economy and market by all means. Other than the services and products you are purchasing for your big day, many of your guests will become tourists. They will stay for an average of two weeks at a local apartment or hotel and explore restaurants, nightlife, shop at "Vernisage" and other local markets all by supporting the local transportation system via taxis and much more!
The Food
Armenian food is one of the best in the world! You and your guests will be able to feast on a vast variety of options. "Khorovats" (Barbecue meat), grilled fish, grilled potato & vegetables, cheese, "Lavash" (Armenian for bread), delicious organic fruits such as pomegranate, peach and berries are some Armenian favorites. For their drinks, guests will have exceptional varieties of wine and local beer to choose from that are sure to make a mark on their taste palettes.
The Music
Armenia is home to some of the most talented musicians in the world who can play almost any genre you wish. You can find a band that plays– Jazz, European, and Modern Pop. Even in Russian, Georgian, Iranian and other languages. But, you have an amazing opportunity to hire authentic Armenian musicians who can play traditional Armenian folk songs with traditional instruments such as Duduk, Zurna, Clarinet & Dhol. With live Armenian traditional music, you can enjoy some of the Armenian dance groups enlightening your day even further. The sights and sounds of your special day will be magnificent!
Honeymoon in Armenia & Artsakh
Another money saving tip – you don't need to worry about spending a fortune on your honeymoon! Enjoy your time together exploring the Motherland. You can visit the must-see sights of beautiful cities like Tilijan, Dzaghgatsor that are well known for its green forests, & the breathtaking Nakrno-Karabagh (Artsakh). Your honeymoon will be unlike anything you've ever dreamed of.
If you're already dreaming of an Armenian wedding after reading this – imagine what joy you'll feel if you experience it! Don't worry about the other details! If some of your loved ones can't make it – you can still share your bachelor or bachelorette party with them in your country.
As for paperwork, it's simple if you plan ahead! You want to make sure to follow Armenian law – which requires a civil marriage prior to your wedding – and finalize paperwork before and after your big day. So, call your future spouse and tell them you're ready to say "I Do" in the beautiful Motherland!